When it comes to weddings, most women don't want to go the traditional route and this includes their engagement rings. In recent times, jewelers have been experimenting with different gemstones for engagement rings and one that is becoming increasingly popular is emerald engagement rings. No matter the style of engagement ring, an emerald always leaves a big impression.
History Of Emerald Engagement Rings
The Sumerians are believed to have been the first to wear emerald rings. They believed it could help heal inflammations especially ones around the eyes. They wore it on the left ring finger and made rings fitted to the hands of the loved ones who had swelling related issues in or around the eyes. Over time, emerald for engagement rings became popular around the world. The most popular ones are the Victorian styled and vintage-inspired designs.
Emerald Engagement Ring Meaning
An emerald engagement ring has special meaning. The emerald gemstone was once used to represent gods and goddesses in older cultures and had deeply religious importance. Many cultures have placed spiritual and cultural significance to the stone.
Today, emeralds represent successful love, and are given to one's beloved to symbolize a strong, and eternal love spending the rest of their lives together. Giving an emerald engagement ring is like wishing your bride-to-be luck, peace, and a long life together as married couples.
Popular Emerald Cuts and Shapes for Engagement Rings
The best cut for emerald engagement ring is the emerald cut. It gives it a beautiful appearance with an elongated and enlarged shapeand makes an exquisite choice for couples looking for an emerald engagement ring.
This classic natural emerald engagement ring four-prong setting has a rounded inside edge for increased comfort.
Starting at $1490
The next best cut is the round cut. Round cut emeralds make some of the most amazing solitaire engagement rings and they are well complemented with accent gemstones.
This halo engagement Ring set is feature a round cut lab-emerald engagement ring and a marquise cut diamond wedding band.This sparkling halo setting features beautiful scalloped pavé diamonds that encircle the center gem and adorn the band. A diamond-encrusted gallery makes this ring truly spectacular.
Starting at $699
Another popular cut for emerald engagement rings is the oval cut. Just like the emerald cut, oval cut gives an elongated shape that serves to boost the size and appearance of the gems. The oval cut can make a bride's finger look longer and slimmer. This especially suits women with hands that are smaller and have petite fingers.
This is a 6x8mm oval cut vintage emerald ring,14k/18 gold with diamond accent stones,with unique flower leaf
Starting at $425
The princess cut for emerald engagement ring gives the gemstone's green hue a royal elegance. Princess cut emerald rings go well with square-shaped and cushion-cut stones. They make beautiful looking solitaire engagement rings.
This is a Princess Cut emerald bridal ring,14k yellow gold with channel set.
Starting at $699
Vintage or antique style engagement rings often feature cushion cut stone. The lack of sharp corners in the soft square shape helps to create a delicate, vintage look, with less of the modern feel of the pure square-shaped gems.
This is a 2pcs 7x7mm Cushion Cut VS 1.4 carat emerald jewelry set,14k gold with diamond accent stones. The matching band is Art Deco Antique half eternity style.
Starting at $788
Click For Other Affordable Emerald Engagement Rings Alternatives
Popular Examples Of These Rings
All over the world, colored stone engagement rings are becoming more and more popular. This is very pronounced in Hollywoodwhere celebrities are taking to colored engagement rings almost all the time, and from the 1950s, emeralds have become a popular choice.
For example, John Kennedy proposed to Jackie Kennedy with an emerald and diamond ring in the early 1950's. This ring is regarded as one of the most popular engagement rings in American history.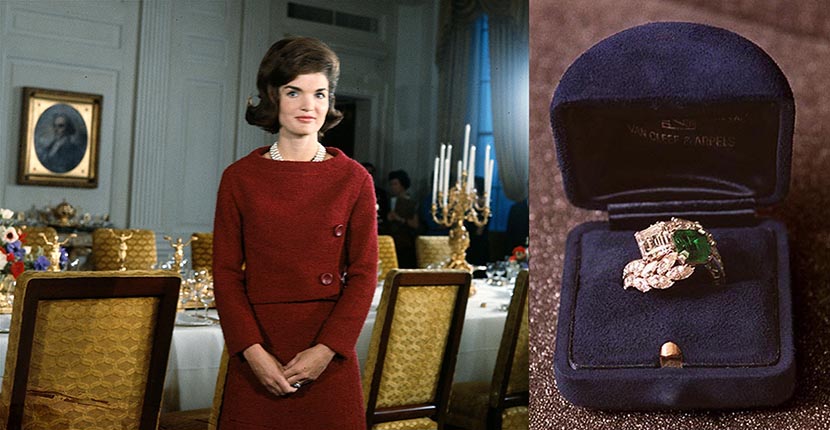 Picture from pinterest
Actress Halle Berry received one of the most standout and most costly engagement ring in Hollywood, with the price estimated to be $200,000. She received a 4-carat emerald ring that had a one-of-a-kind setting from her then-fiancee Olivier Martinez. The ring was hand-forged by French jeweler Robert Mazio, and two smaller diamonds adorned the square-cut emeralds on each side of the ring. The clear portion of the emerald ring contained Phoenician codes thatwere supposed to represent the love story.
Picture from hellomagazine
One of the most famous emerald rings in the world belonged to the late Duchess of Windsor. Her engagement ring was nearly 20 carats of emeralds, set in a platinum band with a gold setting. This engagement ring is considered to be one of the most beautiful gemstone rings to ever be created to date
Picture from pinterest
Grace Kelly was welcomed to Monaco's royal family through her marriage to Prince Rainier when he proposed to her with one of the world's historical emerald engagement ring =, which measured about 12 carats of emerald and was adorned with two diamond baguettes one on each side.